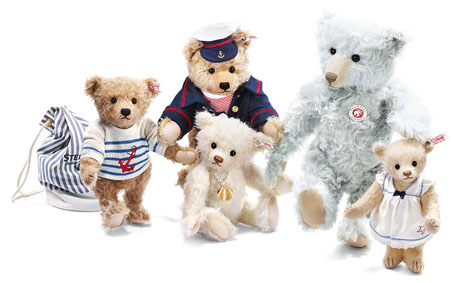 Ebearstore is having the biggest selection of Steiff!
All the Steiff teddy bears and Steiff animals on this page are in stock.
We ship world wide.
For actual shipping costs click here 

Steiff beren
Margarete Steiff
De merknaam Steiff komt van de internationale speelgoedproducent: Margarete Steiff. Margarete Steiff is geboren in 1849 in het Duitse plaatsje Giengen aan de Brenz. Als kind kreeg ze polio en kwam in een rolstoel terecht. Ze leerde naaien en begon met het maken van kleding van vilt. Per toeval maakte ze een olifantje als speldenkussen en gaf dit aan haar neefje. Vanaf dat moment vroegen alle kinderen om haar speelgoedieren.
In 1893 richte ze toen de firma Steiff op. In 1905 ontwerpt Richard Steiff, de neef van Margarete, de eerste beer de PB55. Deze werd later teddybeer genoemd naar "Teddy" Roosevelt. Steiff heeft zich gespecialiseerd in het maken van hoogwaardige teddyberen en knuffelbeesten. Het motto van Margarete Steiff en de Steiff firma is nog altijd:
"Alleen het beste is goed genoeg voor uw kind"
Steiff "knop in oor"
Om ervoor te zorgen dat u gelijk kunt zien dat u een hoogwaardige knuffel koopt plaatst de firma Steiff vanaf 1902 een knop in het oor. Dit is het bekende trademark "Knop in Oor". Hieraan kunt u zien dat u een echte Steiff beer of Steiff knuffel koopt. Met deze knop in het oor, wordt er ook een vaantje bevestigd. Dit vaantje geeft aan wat voor soort Steiff dier u koopt.
Als u een veilige Steiff beer of dier voor uw kind koopt, koopt u een geel label artikel.Deze zijn meestal gemaakt van hoogwaardig pluche dat in de machine gewassen kan worden. Een geel label artikel is niet gelimiteerd.
Als u een beer met een wit Steiff label koopt, betreft het een gelimiteerd artikel. Deze artikelen zijn meestal gemaakt van mohair. Mohair kan met de hand gereinigd worden. Deze artikelen zijn gemaakt als een collectors item voor volwassenen. Ebearstore heeft een grote sortering in Steiff knuffels, Steiff teddyberen en Steiff verzamelberen.